AESOP Instructions for Subs
Getting Started
Aesop offers you the flexibility to proactively search for jobs and fill your own schedule the way you want. To help you benefit most from automated substitute placement, Aesop offers you both phone and web services for finding and accepting jobs. Substitutes can call in to Aesop toll-free at 1-800-942-3767 or log in online at www.FrontlineK12.com/Aesop.
Manage your preferences
With Aesop, not only can you plan your schedule ahead of time, but you can also choose Non-Work Days, specify preferred schools and adjust call times to fit your schedule. You can also view work history and receive phone and e-mail notifications of available jobs.Find out about available jobsAesop notifies substitutes of available jobs they qualify for. Most employee absences are entered the day before the absence occurs, but they can enter their absences very far in advance.  Depending on the district's settings, substitutes can discover available jobs days, weeks, or even months in advance. Aesop can alert substitutes to new jobs through both phone and e-mail services. Substitutes can then choose to accept or reject the assignment.
How to Login to AESOP
The first step to log on to Aesop is to visit the Aesop website.  Put www.FrontlineK12.com/Aesop into your internet browser address bar and hit the Enter button on your keyboard.

This will take you to the Aesop website.  At the top right corner of this page you will see the area to login.  Use the ID (most likely your 10-digit phone number) and PIN provided to you by your district.  Once you have entered this info into the boxes click the Login button.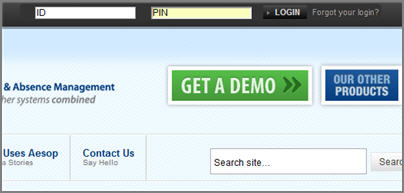 If you are new to Aesop your district may have provided you with a Welcome Letter.  Your ID and PIN will be in this letter.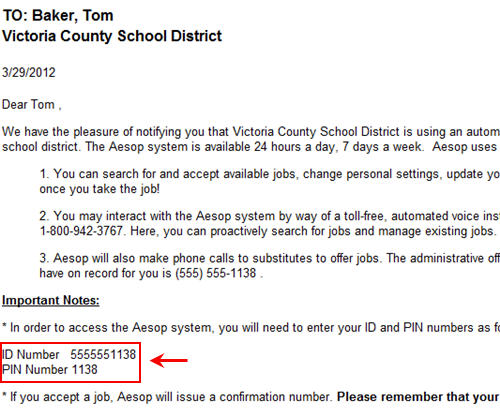 What Happens if I forget my pin?                                                                      
You can click the "Forgot your login" button which will open a new page. On this page you can have a PIN reminder sent to your email address or view a document on common login issues.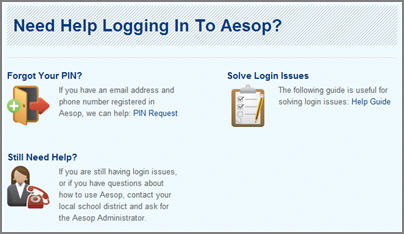 What do I do if I need to cancel a job I have accepted to work?
Cancelling an assignment at the last minute due to illness is sometimes unavoidable. Please contact the Substitute Office as well as cancelling the assignment within the system. Cancelling an assignment to take a more "attractive" assignment is not acceptable.